Teller School (2-Day Virtual)
November 1, 2022 - November 2, 2022
May 11 @ 11:00 am
-
12:30 pm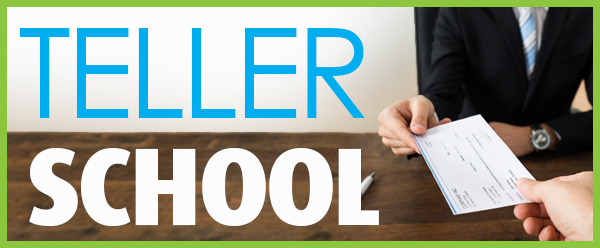 Two-Day Virtual Class | November 1 & 2, 2022 | 9am-3pm
Overview:
During this two day virtual class we will learn many of the compliance, regulatory and security issues necessary to be a successful Teller.  You will receive a Teller Handbook, Certificate and Sign In for the class.  This is recorded and each bank will receive a recording for those who cannot attend live.   This will cover the annual training requirements for BSA and Regulation CC.
Day One—
Customer Service Skills
Currency
Checks—Fundamentals
Endorsements:

Consumers
Business
Fiduciary

Specialty Checks:

Treasury Checks
Substitute Checks
Postal Money Orders

Regulation CC on Checks
Day Two
BSA Training for Tellers including Red Flags
Check Fraud
How money moves and timeframes for returns
Understanding the Connection with the signature card contract
Postdated Checks
Stale dated Checks
Liability of the Parties
Legal legends on checks
Handling Checks at the death of an account holder
Active Shooters and Robbery
Seminar Instructor
Deborah Crawford is the President of Gettechnical Inc., a Florida-based firm, specializing in the education of banks across the nation.  Her 35+ years of banking and teaching experience began at Hibernia National Bank in New Orleans. She graduated from Louisiana State University with both her bachelor's and master's degrees.  Deborah's specialty is in the deposit side of the financial institution where she teaches seminars on regulations, documentation, insurance, and Individual Retirement Accounts.
Registration 
The cost to attend this all-day seminar is $499 for one connection. Registration fees include instruction, live interaction with the instructor, an updated Teller Handbook (digital), and a link to the recordings of the class. (You will have unlimited access to the recording for 90 days.) You may have as many listeners as you wish for your one connection. If you would like additional logins, please contact our office. A fee of $200 will be billed for each additional login. Please note any additional connections/registrants in the comments section of the registration form.
Cancellation and More Information
Full registration fees will be refunded if a cancellation is received on or before ten business days prior to the meeting. If the date of cancellation is less than ten days prior to the meeting, a $75 processing fee will be retained. No refunds will be given for cancellations made the day of the program. If you need additional information, please call (888) 773-4839.