FFIEC BSA/AML Exam Manual: A 2-Day Study
May 11 @ 11:00 am
-
12:30 pm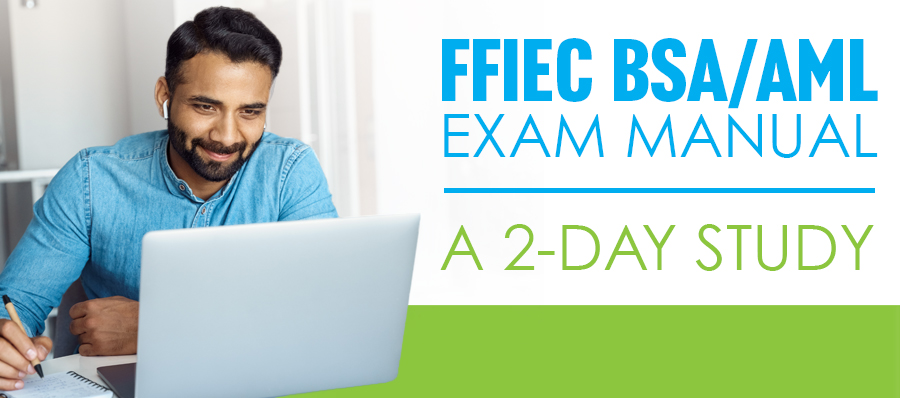 2-Day Virtual Class | April 26 & 27, 2023 | 9:00am-3:00pm CENTRAL Time
During this 2-Day study we will work directly from the FFIEC BSA Exam Manual.  You will receive an electronic copy of the manual.
Learn at your desk with your peers!  Spend time with Deb Crawford this year and become the BSA/AML Exam manual expert at your financial institution.
Day 1:
Part I:   History, Risk Assessments, Training, Audit, Internal Controls and BSA Officer
During this part of the study we will focus on the first section of the exam manual.  The study will encompass the risk assessment, compliance program, internal controls, audit, BSA Officer and training.
Highlights:
Risk Assessments
Compliance Program,
Internal controls
BSA Officer
Training
Part II: Customer Identification Program, Customer Due Diligence and High-Risk Customers
During this part of the study we will cover line by line these sections of the FFIEC BSA/AML Exam Manual.  You will receive in-depth information on how to know and manage your customers.
Highlights:
Assessing Compliance
Customer Identification Program

Information
Document Verification
Nondocument Verification
Resolving Discrepancies
Recordkeeping
Reliance on Third parties and Other Financial Institutions

Customer Due Diligence

Risk rating customers
Beneficial Ownership

Enhanced Due Diligence

MSBs
MRBs
PEPs
NRAs
Cash Businesses
Third Party Payment Processors
Day 2:
Part III: SARs and CTRs
During our study on the reports we will cover everything in the exam manual related to CTRs and SARs. From national security letters to CTR Exemptions this is a comprehensive look on what you will be examined on.
Highlights:
Suspicious Activity Reporting
Alerts
Monitoring
Model Validation
Working with law enforcement
Making the decision to file
CTRs
CTR exemptions
Aggregations for CTR purposes
Part IV:  Monetary Instrument Records, Funds Transfers, 314 a, 314b and OFAC and Special Measures
During the final part of the study we will cover the recordkeeping requirements and how we work with law enforcement.  This area will look at what you will be examined on and the pitfalls of these four areas of the BSA exam.
Highlights:
Monetary Instruments Recordkeeping Requirements
Funds Transfer Recordkeeping
314 a Process and examination
314 b Sharing information with another financial institution
Line-by-line look at the exam manual and what will be examined
Studying this section to keep you into compliance with these four big sections
Special Measure
OFAC Examination Procedures
Who should attend?  BSA Officers, Staff, Compliance, Audit and Management
Seminar Instructor
Deborah Crawford is the President of Gettechnical Inc., a Florida-based firm, specializing in the education of banks across the nation.  Her 40+ years of banking and teaching experience began at Hibernia National Bank in New Orleans. She graduated from Louisiana State University with both her bachelor's and master's degrees.  Deborah's specialty is in the deposit side of the financial institution where she teaches seminars on regulations, documentation, insurance, and Individual Retirement Accounts.
Registration 
The cost to attend this all-day seminar is $499 for one connection*. Registration fees include instruction, live interaction with the instructor, supplemental items and/or any manuals referenced by the instructor (digital), and a link to the recordings of the class. (You will have unlimited access to the recording for 90 days.) *You may have as many listeners as you wish for your ONE connection (ONE computer login). If you would like additional logins for additional locations/computers, please contact our office or note names and email addresses in the comments sections of the registration form. A fee of $200 will be billed for each additional login.
Cancellation and More Information
Full registration fees will be refunded if a cancellation is received on or before ten business days prior to the meeting. If the date of cancellation is less than ten days prior to the meeting, a $75 processing fee will be retained. No refunds will be given for cancellations made the day of the program. If you need additional information, please call (888) 773-4839.