Deposit Operations Update*
January 13 @ 10:00 am - 4:00 pm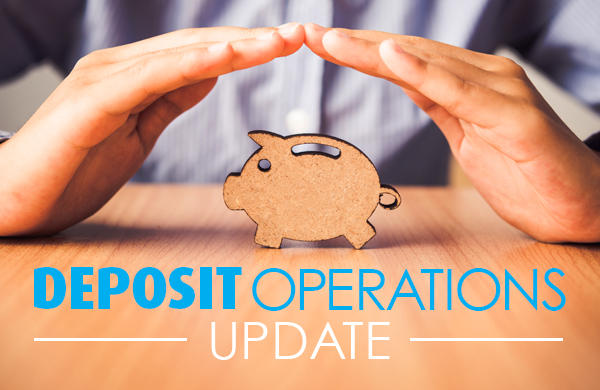 *UPDATED OUTLINE *
2023 starts off with a BIG Changes!  IRA changes, beneficial ownership proposed changes and all the other deposit hot topics.  It's going to be a big year with increased fraud on checks, electronic transactions, and overdraft lawsuits.  Learn what you need to know and do in 2023 to keep your deposit operations and compliance on track.
Highlights:
SECURE ACT 2.0—Immediate changes to required minimum distributions on IRAs
Beneficial Ownership: New proposed BOSS database
FDIC Insurance Changes on Trusts
NRA Interest Reporting and W-8BENs
Mobile deposit indemnity, Regulation CC
Check fraud and liability of the bank
Handling Deceased deposit accounts
Regulation E and unauthorized transactions
Overdrafts—Transfer from Savings, Opt-Ins, Paying items twice and debit cards
Eliminate old practices on CDs and NOW accounts
Who gets what disclosures
And much much more…
Who should attend?
Deposit Compliance Officer, Deposit Operations Staff, Training, Branch Administration, New Accounts, Senior management
Seminar Instructor
Deborah Crawford is the President of Gettechnical Inc., a Florida-based firm, specializing in the education of banks across the nation.  Her 35+ years of banking and teaching experience began at Hibernia National Bank in New Orleans. She graduated from Louisiana State University with both her bachelor's and master's degrees.  Deborah's specialty is in the deposit side of the financial institution where she teaches seminars on regulations, documentation, insurance, and Individual Retirement Accounts.
Registration 
The cost to attend this all-day seminar is $299 for one connection. Registration fees include instruction, live interaction with the instructor, and a link to the recordings of the class. (You will have unlimited access to the recording for 90 days.) You may have as many listeners as you wish for your ONE connection (ONE computer login). If you would like additional logins for additional locations/computers, please contact our office. A fee of $100 will be billed for each additional login. Please note any additional connections/registrants in the comments section of the registration form.
Cancellation and More Information
Full registration fees will be refunded if a cancellation is received on or before ten business days prior to the meeting. If the date of cancellation is less than ten days prior to the meeting, a $75 processing fee will be retained. No refunds will be given for cancellations made the day of the program. If you need additional information, please call (888) 773-4839.