Alert! FinCEN Issues Initial Beneficial Ownership Information Reporting Guidance
May 11 @ 10:00 am - 11:30 am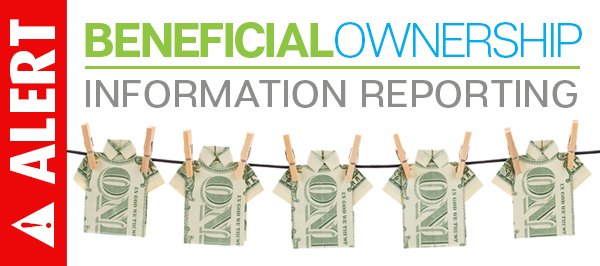 90-Minute Webinar | 10:00am – 11:30am CENTRAL TIME (11:00am-12:30pm Eastern)
Financial Crimes Enforcement Network (FinCEN) published its first set of guidance materials to aid the public, and in particular the small business community, in understanding upcoming beneficial ownership information (BOI) reporting requirements taking effect on January 1, 2024. The new regulations require many corporations, limited liability companies, and other entities created in or registered to do business in the United States to report information about their beneficial owners—the persons who ultimately own or control the company—to FinCEN.
During this program, we will cover all the new FAQs and information now available for our customers.
What we will discuss:
Answers to Frequently Asked Questions about the reporting requirement.
One Pagers on Key Filing Dates and Key Questions.
Thoughts about how to communicate with your customers.
Learn how to get the information on the video to your customers.
Continue learning about beneficial ownership and our customer's responsibilities
Who should attend?
BSA Staff, Bank Management, Compliance, Operations, Lending Officers, Business Management and all those who open accounts at financial institutions.
Webinar Instructor
Deborah Crawford is the President of Gettechnical Inc., a Florida-based firm, specializing in the education of banks across the nation.  Her 40+ years of banking and teaching experience began at Hibernia National Bank in New Orleans. She graduated from Louisiana State University with both her bachelor's and master's degrees.  Deborah's specialty is in the deposit side of the financial institution where she teaches seminars on regulations, documentation, insurance, and Individual Retirement Accounts.
Registration 
The cost to attend this 90-minute webinar is $199 for one connection*. Registration fees include instruction, live interaction with the instructor, supplemental materials, and a link to the recording of the class. (You will have unlimited access to the recording for 90 days.) *You may have as many listeners as you wish for your ONE connection (ONE computer login). If you would like additional logins for additional locations/computers, please contact our office or note names and email addresses in the comments sections of the registration form. A fee of $75 will be billed for each additional login.
Cancellation and More Information
Full registration fees will be refunded if a cancellation is received on or before ten business days prior to the meeting. If the date of cancellation is less than ten days prior to the meeting, a $75 processing fee will be retained. No refunds will be given for cancellations made the day of the program. If you need additional information, please call (888) 773-4839.